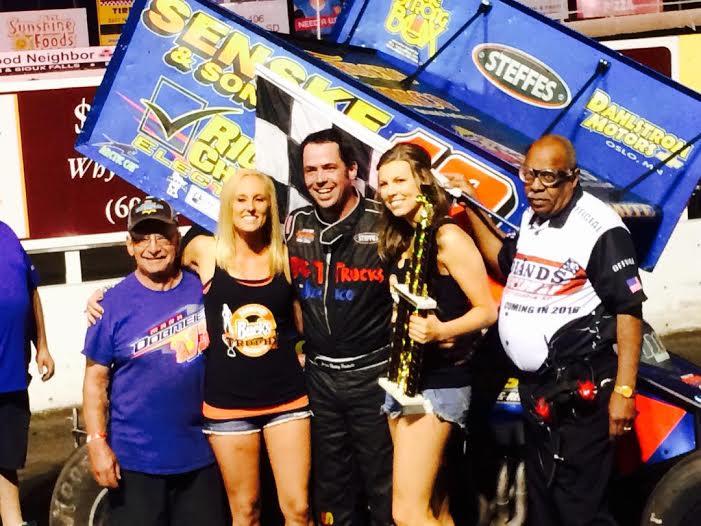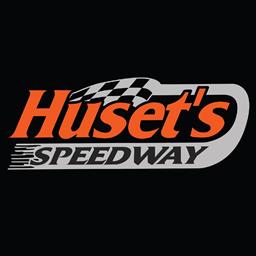 6/28/2015
Huset's Speedway
---
Bouncing off the wall: Dobmeier tops Huset's
"With all the good competition here this year, you have to be wide open with zero tolerance," said Mark Dobmeier in victory lane Sunday night at Huset's Speedway.
Dobmeier battled his way back to the front after pole sitter Lynton Jeffrey drove away to a 3.5 second lead over the field. But at the halfway point, Dobmeier made his way through the smallest of openers on the high line of turn two and into the lead.
"I was running with right rear on the way," added Dobmeier. That was no exaggeration as the #13 was riding the very brim of the race track and even made a major hit on the way in turn one on the white flag lap.
Tim Kaeding crossed the line just a few car lengths behind Dobmeier with Jeffery taking third. Ian Madsen was fourth ahead of Dusty Zomer in fifth. Zomer set quick time to start the night of competition.
Casey Abbas took home his third trophy of the win in the Coffee Cup Fuel Stop IMCA RaceSaver sprint cars. Abbas to the early lead from Trevor Mell and went on to the win ahead of Shane Fick, Dalton Johnson, Robby Wolfgang and Ben Waxdahl.
Jason Wagoner led every lap of the micro sprint feature to get his first career win at Huset's Speedway. Wegener had to hold off several charges from Greg Gunderson. At the line, Shane Fick was second with Chris Breen, Skylar Prochaska (filling in for Randy Wulf) and Gunderson in the top five.
Zach VanVoorst took of the lead of the Bolte's Rolloff Service Street Stock feature with just two laps to go. He'd go on to his first win of the year and second of his career at Huset's. Brandon Ferguson was second ahead of Shaun Taylor, Darrin Korthals and Tim Dann.
"I love when we get tracks like this," said Logan Fitzpatrick after taking home his first win of the year in the hobby stock class.
Fitzpatrick led every lap of the feature to finish ahead of Thomas Kracht, Dustin Gulbrandson, Chad Kuhnert and Jim Baartman.
Two events come up at Huset's this next weekend. The FVP National Sprint League outlaw sprints hit Huset's for the first time on Friday. Sunday's race is $5,000 to win for the outlaw sprints with bonus money provided by Bolte's Rolloff Service and Octane Ink.
---
Submitted By: Shawn Neisteadt
Back to News